Send Visually-Appealing URL Link Previews
Send a preview of your URL link
Send content of private webpages
Send the entire contents of a webpage
Get your message across in a beautiful way
Integrated into Gmail No extra software!

All our features are 100% free!
Integrated with Gmail
Gmail URL Link Preview is built specifically to work with Gmail and G Suite email accounts. Once you've installed the Chrome extension, you can start using URL link previews while composing your email in just 2 clicks—all directly from within the body of your Gmail email. There is no need to log into a separate website to manage your URL previews.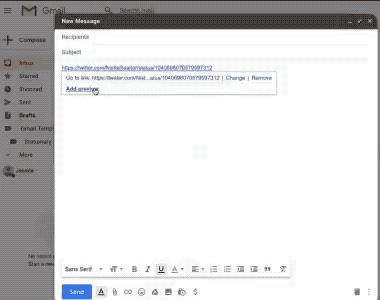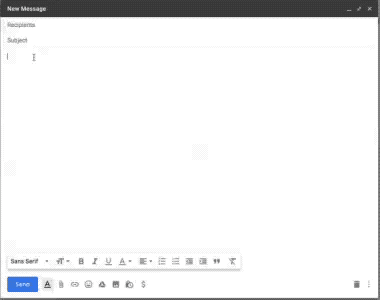 Copy and Paste
Once you find a webpage that you want to share, just copy and paste its URL into the body of your email, as you would with any URL that you want to reference.
Menu Options
You'll notice that when you click on your URL link in email, a new menu will appear. It will ask you to Add preview or to Add content.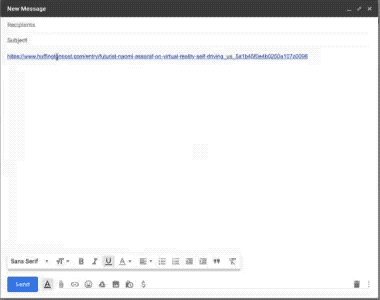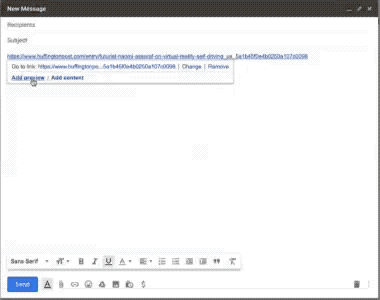 Adding a Preview
When you click on Add Preview from your new menu, you'll notice that Gmail URL Link Preview will automatically populate a visually stimulating URL preview underneath your URL link.
Adding Content
When you click on Add Content from your new menu, you'll notice that Gmail URL Link Preview will automatically populate your email with the entire contents of that webpage URL.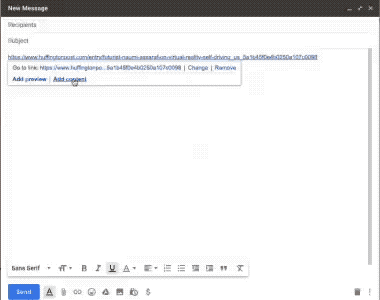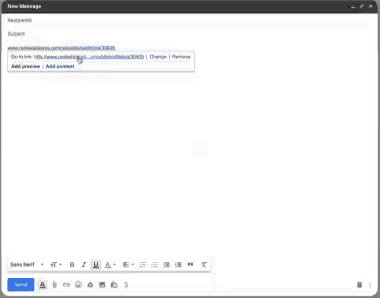 Share Private Webpages
When you choose Add content to your email, you'll get the entirety of your webpage's contents well-formatted and directly in the body of your email. The added benefit of this feature is that you can send: private documents and contracts, unpublished blog posts, unpublished realtor listings, and more! All you need to supply is a URL link, click on Add content, and Gmail URL Link Preview will do the rest for you.
Visually Get Your Message Across
In our example here, we were able to show you exactly how you can easily send well-formatted, beautiful URL link previews, and how to send the entire contents of your URL link's webpage content. Gmail URL Link Preview lets you get your message across in a visual way that simply can't be done through text alone.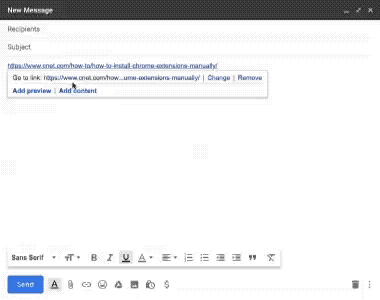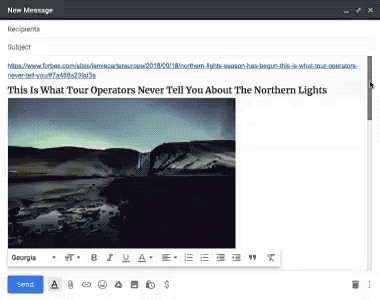 Your Readers Will Appreciate You
Your email recipients will appreciate your ability to show them what they need to see in a clear, and concise way that doesn't make them have to click on any additional links. Saving them time from having to understand your message, creates the foundation for a better relationship.
Appear More Tech Savvy
While Gmail URL Link Preview does all the work for you, you'll appear more knowledgeable and tech-savvy. Anytime you can get your message across in a new and highly-effective way, you'll be considered as a thought-leader among your peers.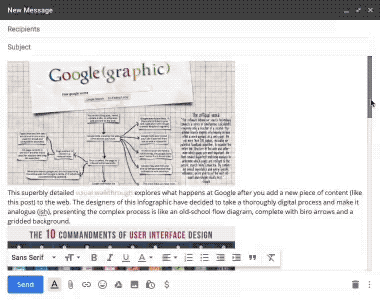 ---
Who Uses Gmail URL Link Preview?
Sales professionals
Sales professionals who have products they want to show in email with images and a brief description, so that sales prospects can decide what to purchase


Marketers
Marketers who want to share visually pleasing news articles or press releases in order to showcase their company's excellence.
Customer Service Representatives
Customer Service Representatives who want to provide step-by-step instructions for their company's customers. This allows them to send an entire webpage's contents, versus just a preview, and saves frustrated customers from having to click on a URL link.


Job seekers
Job seekers who want to show their online resume or LinkedIn profile directly in the hiring manager's email inbox. What a way to stand out!
Recruiters
Recruiters who want to entice candidates with multiple job options, and wants a preview for each of their open positions.


Human Resources
Human Resources who want to make sure that when an employee has a question or complains about something, there's a webpage that they can send them to with instructions about their situation.
Realtors
Realtors who want to share their listings with their VIP clients before it hits the market.


Anyone
Anyone who wants to save everyone else time by sending visually appealing URL link previews right in their email.